Know about it first!
Soon it will happen! Today, 23rd of May, we can announce the junction of development of our new product for corporate users to the final stage. And it's time for uncovering the mystery: what will it be?
The first thing to note: this software solution, of course, will be antivirus. And it will inherit only the best from personal versions of our products for everyday use. In addition to components for virus protection, such as: a scanner for checking files in real time, heuristic analyzer, firewall, web-filter etc., our technology of reduce the consumption of system resources of the computer will be applied in this product too.
As many customers already know, we have implemented our new technology to Zillya! Antivirus and Zillya! Internet Security in last September. It is significantly reduces the amount of computer resources that these programs use. Based on this technology we already developed similar solution that will be used in our new product for computers running in LAN. That is, the second significant "plus" - new antivirus software will use RAM average 70-80Mb.
Thirdly, as already noted, this product is intended for organizations or more precisely - for small and middle business. This software is developed specifically for using in LAN. The new product will consist of server with the administrator's panel and client-parts.
And now, the main advantage for business users: all client-parts of our new product in the one LAN will be completely controlled by the administrator's panel! This will allow you remotely manage all client-parts of antivirus in your LAN sitting at the one PC with an administrator's panel. As an administrator, from one your computer you will have the following capabilities:
installing antivirus on selected computers;
running a scan on each computer;
taking action on viruses found on every your PC in LAN;
building and analyzing reports on viral activity in the network;
tracking the history of changes for each PC;
planning objectives for each client computer in your LAN;
saving your setting by password and much more.
All this you can do without getting up from your seat! Our new product designed for significantly saving time of system administrators and optimization all their actions for antivirus protection within a single organization.
And that's not all that our new product can give to users! Additionally, it will inherit from an existing solution for corporate users centralized updates of virus databases. This is especially important for those networks in which are one or more computers with access to the Internet, and the other computers have no Internet connection. Thus, after installing administrator's panel on the computer which has connect to Internet, and client-parts on the PC without connecting to Internet, you will ensure that each computer will have systematic security updates. The updates of the tools and of the virus bases will be downloaded to the computer-administrator, and after that they will be given to every client-parts on every PC on your LAN!
At this stage, we can also present you a screenshot of the administrator's panel (it is not final under development version):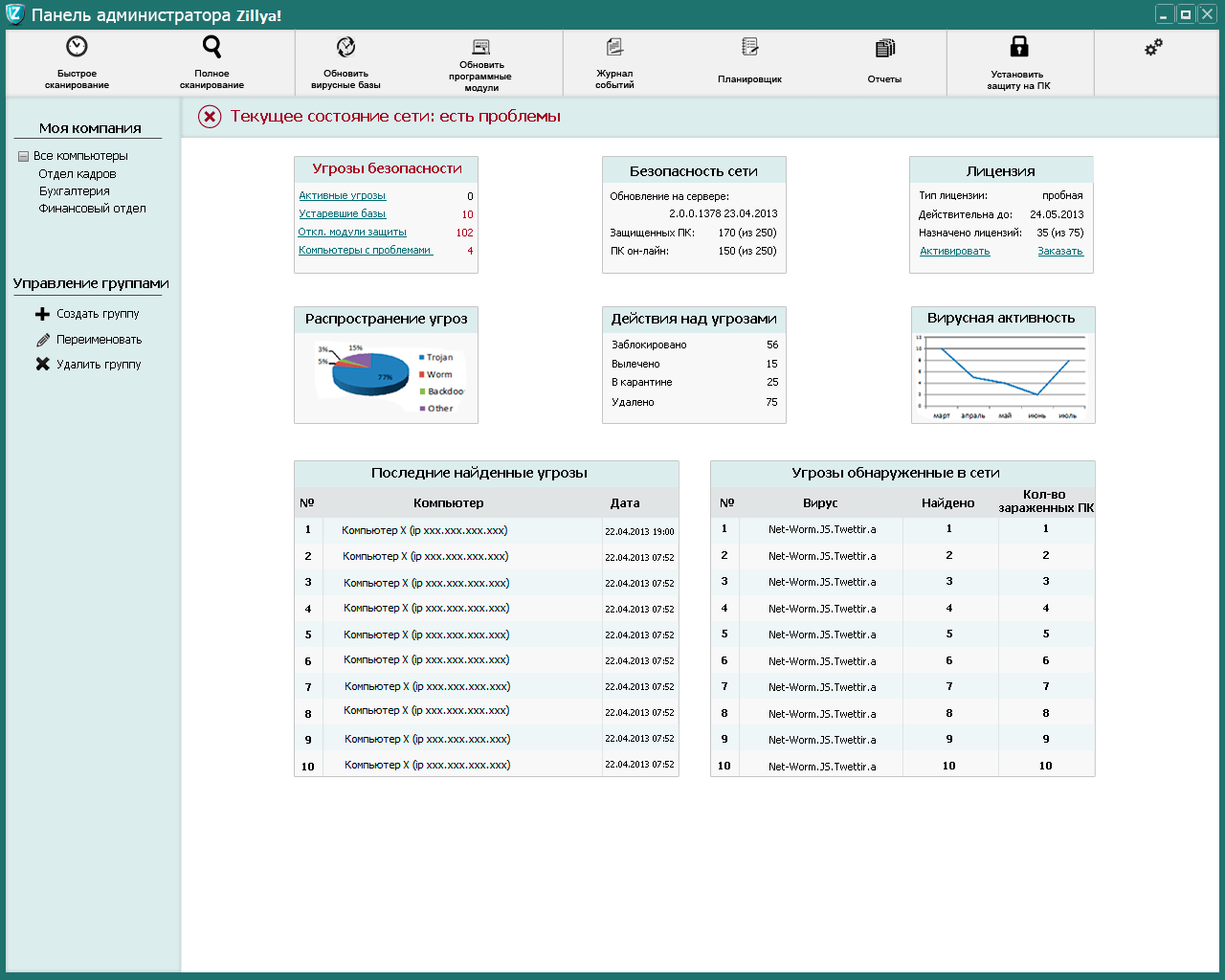 Finally, we can add that in this June we plans to open opportunities for pre-order for testing this product for everyone organizations with the possibility of buying the license in the future with big discount prices! You can help us and contribute to the development of Ukrainian software, and we thank you with most loyal conditions for our further cooperation!